Order On
WhatsApp
Soothing & Wellness | Little Monk
A symbol of peace & acceptance, monks are instantly recognizable worldwide. All cultures, races, or religions acknowledge that the image of a monk is one of tranquility & equanimity.

✔ The image of a handmade monk accompanied by the cascading effects of smoke billowing down the scene of a flowing river instantly invokes a feeling of well-being.
✔ Yogis, meditators, & peace seekers find themselves drawn to our most popular incense burner, the Little Monk.

✔ In contrast, those feeling stressed, run-down, or anxious also choose this enigmatic burner; anyone who wants to feel peace in their home is called by this popular piece.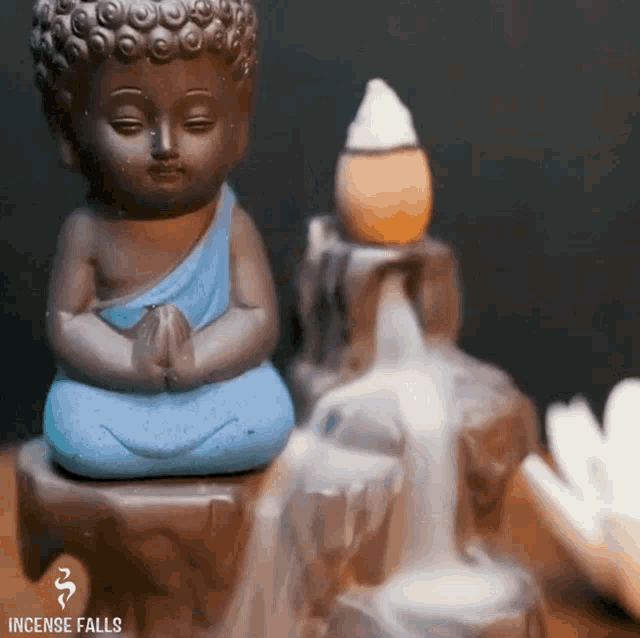 As with all of our incense burners, the Little Monk is compatible with any of our Incense Cones, seamlessly working together to create a mesmerizing & calming flowing cascade effect. 
The benefits of aromatherapy using the Little Monk:
Pain management

Improved quality of sleep

Reducing stress & anxiety

Inducing calmness & a feeling of well-being

Improved digestive functions

Strengthen the immune system

Management of minor ailments such as headaches & sore joints
Craftemporio Presents you a new Series of Incense honder Cum Showpiece Figurine Which is Back-flow incense burner creates an illusion of a smokey waterfall.
This piece of art has lord Buddha sitting and meditating beside the waterfall. Simply place an incense cone at the top of the waterfall, and with the cone's special properties, the smoke starts to flow in reverse direction, that is from top to bottom, and in-turn creates a beautiful smokey waterfall. With scented smoke flowing in waves beside the Buddha, this makes the perfect housewarming gift for any home! Back-flow Buddha Incense burner comes with a box of 10 back-flow incense cones.
You can order more back-flow cones from Us. This showpiece has been diligently handcrafted by skilled artisans using various traditional techniques
General
| | |
| --- | --- |
| Sales Package | |
| Model Number | |
| Sub-category | Home Decor – Table Decor & Handicrafts, Home Decor – Spiritual & Festive Decor, Home Decor – Clocks & Wall Decor |
| Type | Religious Idol & Figurine |
| Regional Speciality | |
| Suitable For | |
| Weight | |
Warranty
| | |
| --- | --- |
| Warranty Service Type | |
| Domestic Warranty | |